Verbum, a company with more than ten years in the field of professional translation, starts its online presence with the signature of imonline.
A few words about the company
With a passion for language and a weapon of our language expertise and creativity, we provide a wide range of services from translation and editing to subtitling, web pagination (DTP) and web content updating.
With over ten years of experience in the field and a network of skilled and talented translators, we guarantee high quality translation using modern software.
Legal translations
We translate your legal documents for you with accuracy, reliability and speed. We undertake all kinds of legal documents, from degrees and certificates to corporate contracts.
We offer the possibility of delivering a certified translation for your documents intended for public bodies or wherever else required.
A confidentiality agreement is kept with our partners, ensuring absolute confidentiality.
Website translation
In an ever-evolving global market, translating your personal or corporate website into other languages will give you a competitive edge. We offer quality translation and localization of your website, always making sure the translation is adapted both linguistically and culturally to the respective culture, to ensure that marketing goals "will not be lost in translation". We also undertake updating websites and posting material on websites and networking media.
We have professional software for image processing for posting on the internet or for inclusion in a form as well as professional paging software (DTP).
Technical translation
Our team of trained translators guarantees a perfect result in the translation of your technical texts such as: manuals for the use of machines and electrical devices, electronic systems, technical contracts, telecommunications, standards - patents and software.
We use appropriate translation software to ensure consistency in the use of terminology and in addition we offer possibilities of formatting your text through special computer programs.
Subtitling
With many years of experience in subtitling movies and TV series, we responsibly undertake the translation and recording of any kind of audiovisual material, whether it is a movie, documentary, animation or corporate or advertising video. We pay attention to detail and use our ingenuity, so that the subtitles not just accompany the image but offer the viewer a complete experience.
Literary translation
Whether it is a translation of books or a translation of poems and other texts with a literary tone, such as articles and travel guides, we use all our translation capabilities and creativity, in close collaboration with you to create a final text equal to the original. With respect for the temperament of the writing, with faith in the original but also with a dose of freedom, we work with love for the language to create texts that meet your requirements and touch the reader.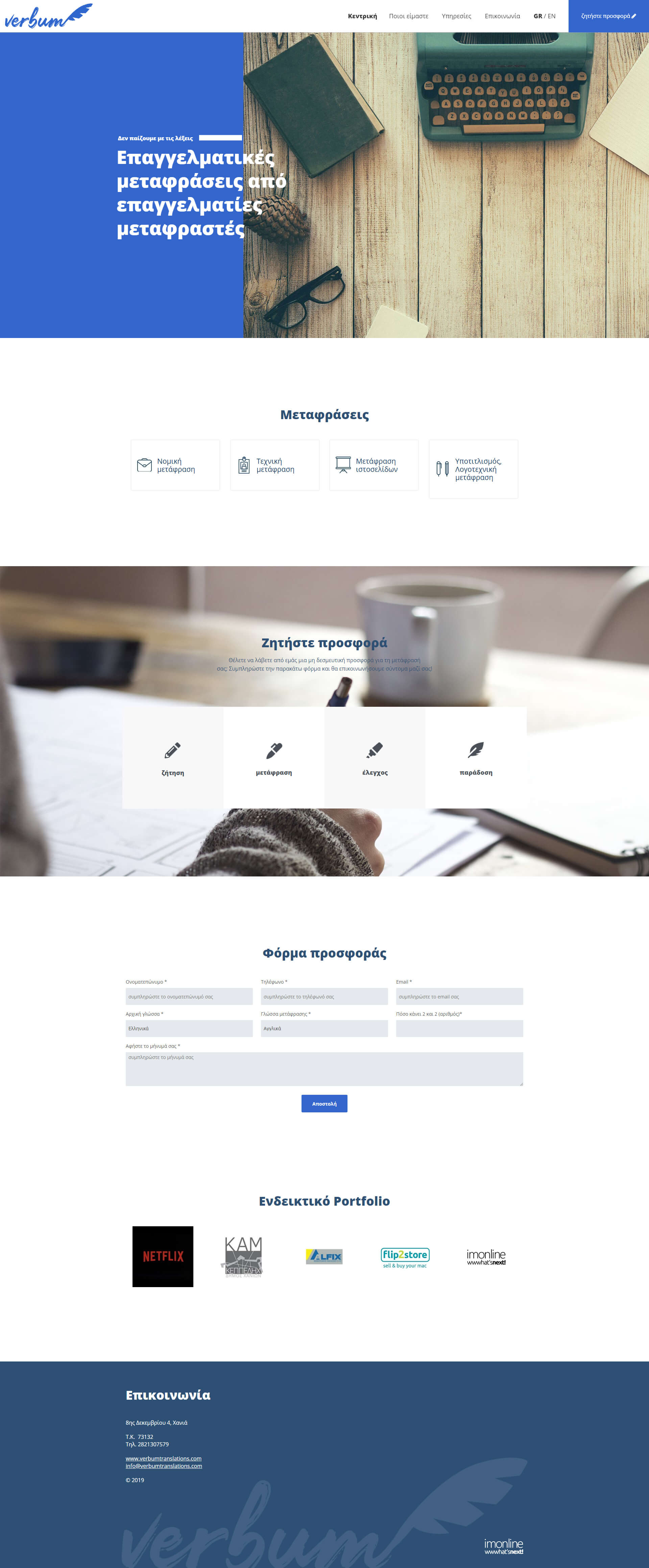 See the website here: www.verbumtranslations.com